We at Fujifilm are excited to announce the latest innovation in monochrome print production, the Revoria E1 Series. With ultra-high resolutions, unmatched flexibility and plenty of speed to accommodate high-volume production printing, the Fujifilm Revoria E1 printers can do it all. This lineup is designed for quality, reliability and versatility for even the most demanding print jobs — all from the industry leaders at Fujifilm.
We made the Revoria E1 Series to offer enhanced productivity on demand. With this lineup, you can expect unparalleled print quality thanks to a wide range of capabilities, including 2400-by-2400 dots per inch (dpi) and EA-Eco LGK toner. Photographs benefit from smooth, fine gradations, and documents get easy-to-read, low-glare text. Whatever you're printing, you can expect superb quality that will impress any reader.
This lineup can handle a wide range of paper weights and sizes, from lightweight paper at 52 grams per square meter (gsm) to heavyweight paper up to 350 gsm. It also supports flexible feeding and finishing options, including three-sided trim, cover insertion and saddle-stapled booklets with square backs. The Revoria E1 Series excels at versatility in every use case, allowing you to tackle more projects with ease and confidence.
Revoria E1 printers make it simple to meet deadlines without sacrificing quality for an all-around high-performing solution. Whether you're printing high volumes of personalized text documents or professional-quality photographs, the Revoria E1 lineup delivers.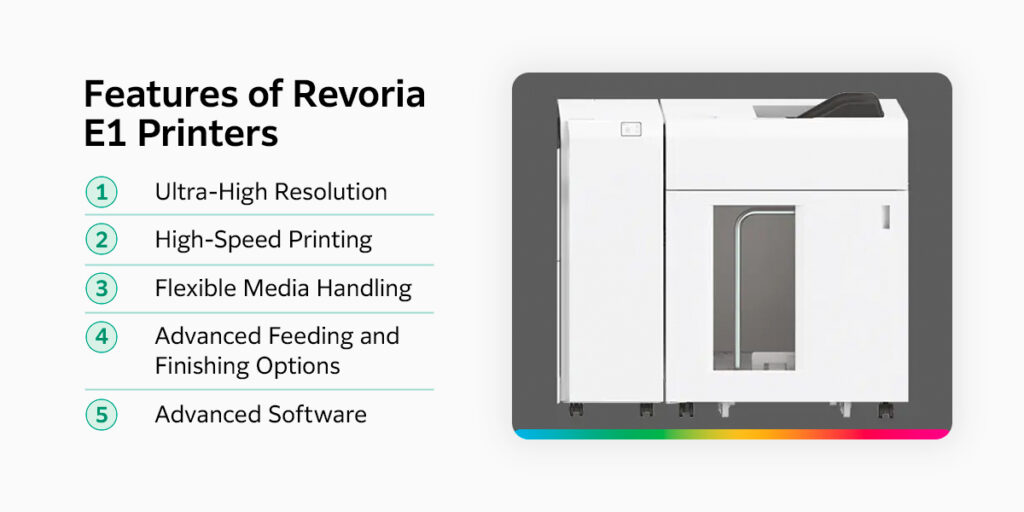 Features of Revoria E1 Printers
Under the hood, you'll find features to help you meet the demands of nearly any commercial printing project, from one-off mass printing tasks to continuous printing projects. Latest-generation hardware and sophisticated software power a wide range of capabilities, including:
Revoria E1 printers reach an extremely high resolution of 2400-by-2400 dpi, offering some of the best detail on the market. This superb print quality can deliver sharp, precise text and graphics on high-quality monochrome documents. Simple documents print in crisp relief, and photos or graphics show every bit of detail you need.
Other ways the Revoria E1 Series supports high resolution is through consistent transport speed, precise registration and easy calibration technologies. You'll also find various screening options — including an FM screen to suppress moire — and edge enhancements to fix jagged thin lines and text outlines.
Whether you print continuously or occasionally need to print on a tight deadline, Revoria E1 printers can accommodate up to 136 pages per minute for single-sided and double-sided print jobs. This series offers fast, reliable monochrome print production thanks to toner that fuses at lower temperatures. It provides continuous mass printing with high-capacity feeders and stackers, supported by paper transport technology to minimize jams and keep pages moving, even those with tricky surfaces like dust, textures or coatings.
Printing happens quickly, and so does handling. Users can refill paper and replace cartridges during the printing process to ensure that every second of operation gets put to good use and avoid unnecessary downtime. High-capacity feeders, stackers and toner cartridges can help you go longer between refills or replacements. Combining speed with quality helps businesses meet the demands of more projects and finish tasks ahead of deadline.
3. Flexible Media Handling
The Revoria E1 series supports a wide range of paper weights and sizes, giving you the flexibility to take on more print jobs with minimal adjustments. It offers full-bleed printing on SRA3 sheets and banner printing on long paper up to 660.4 millimeters (mm). From books to signage to other unique media types, the Revoria E1 Series offers high-quality results and few manual handling requirements. It also provides improved control to widen the range of specialty papers and coatings the printers can support.
Within the system, you'll find advanced solutions to correct paper transit issues and keep things moving smoothly, no matter what settings you're using. It has multifeed detection sensors to watch paper flow and prevent multiple sheets of paper from feeding into the machine. The paper moves along a path with wide turning angles and a vertical inversion mechanism to transport the paper quickly and reliably.
In the Revoria E1 printers, you'll also find options for customizing paper handling settings, so you can reuse your selections repeatedly and switch between dozens of different configurations in very little time.
4. Advanced Feeding and Finishing Options
Reviora E1 printers also support flexibility in feeding and finishing, so you can choose a system that best supports the types of print jobs in your workflow. Some options include:
Saddle-stapled booklets with square backs

Two-, three- and four-hole punch

Single fold, Z fold, Z fold half sheet and tri-fold

Face trim and two-sided trim
You can use Revoria equipment to build a flexible, high-performance printing system and produce a wide range of printed brochures, booklets and other products. Take on more jobs and avoid hands-on finishing with Revoria's automated solutions and reliable capabilities.
Even the best hardware needs effective software to back it up. Fujifilm's sophisticated software and server infrastructure support the high-speed, high-quality production of Revoria E1 printers. With our unique HQ digital screen technologies, Revoria E1 printers can generate high-resolution, smooth screen images at 2400-by-2400 dpi.
You'll also get support for industry-standard languages for variable data printing, including PPML, PDF/VT-1 and PDF/VT-2. With the help of these languages, you can print a wide range of personalized documents, such as bills and direct mail. You can also protect any sensitive data with encryption and secure erasure from the print server to prevent data breaches.
The Revoria E1 Series supports Adobe® PDF Print Engine for easy processing of rich PDF files and JDF workflows, which allow you to continue working with the communication protocol you're used to.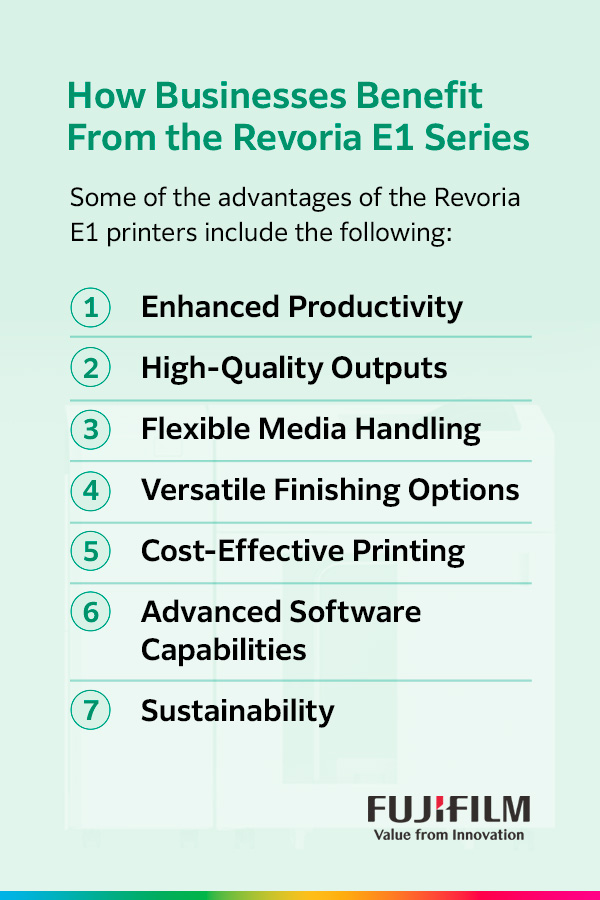 How Businesses Benefit From the Revoria E1 Series
By combining speed, dependability and a wide range of features, the Revoria E1 Series can significantly benefit virtually any organization with mass printing demands. Some of the advantages of the Revoria E1 printers include the following:
For most projects, your printing speed determines your productivity, which affects your profitability. Of course, the right printer should be fast, but it must also offer consistent, error-free results so you don't need to spend time fixing errors or preventing problems. It should also have minimal handling requirements, allowing the printer to do most of the work. If your team members spend too much time feeding paper or manually finishing products, they have less time to focus on more important tasks that require the human element.
The Revoria E1 Series allows for enhanced productivity, so you can spend less time attending to your printer or waiting for a job to finish and more time on other parts of running the business. This high-performing printing press uses advanced features to minimize jams and support continuous, highly productive operations.
Print quality depends on many factors, from toner technology to how the paper moves. Revoria E1 considers them all for superb printing quality. These results can help you enjoy the following:
High image quality: Small particle sizes down to 6.5 microns allow you to achieve smooth gradations in photos, crisp text and uniform densities. You can flexibly print monochrome text, drawings, photos and graphics without worrying about the quality.

Consistent transport speeds: The transfer belt of the Revoria E1 printers has stabilized drive speeds to ensure consistent transfer speeds with all types of paper. You don't need to wonder how different media will affect transfer speeds and print quality.

Excellent alignment: These printers use Image Registration Control Technology (IReCT) to correct poor registration or distortion in real time. It measures the positioning of sheets printing at high speed to make these corrections and ensure perfectly aligned results. The ultra-high precision helps avoid misaligned pages, product errors and unhappy clients.

Enhanced edges: With Fujifilm's Edge Enhancement and Adjust Invert Text/Line Weight functionality, the Revoria E1 Series can fix jaggedness and thickened or blurred text on edges and thin lines. These advanced features allow you to print razor-sharp lines that come out crisp and smooth. They can improve readability and ensure your product looks as good as it does on screen.

Effective and simple quality calibrations: When it's time to calibrate the printer and make adjustments, the Revoria E1 Series uses Simple Image Quality Adjustment (SIQA). This feature makes adjustments as easy as printing and scanning a calibration chart. Adjusting print position, perpendicularity, magnification and skew takes just a few minutes and doesn't interrupt your work day.

Improved screening options: The Revoria E1 adds more diverse screen settings, like a moire-suppressing option, so you can choose the one that best suits your graphics.
3. Flexible Media Handling
The extreme flexibility of the Revoria E1 lineup greatly expands your options. Take on more print projects with the ability to tackle a wide range of paper weights between 52 gsm to 350 gsm. Even on the higher end of the scale, the printer will take care of complexities thanks to features like automatic control mechanisms that ensure consistent pressure. Revoria E1 printers also have fine controls for coated and specialty papers, so you can create eye-catching products in various configurations.
With page sizes that range from A6 to 330.2-by-488 mm and full-bleed and banner printing capabilities, you can print everything from small booklets to bold panoramic posters. Say yes to more projects or branch out into diverse options.
Even if you're working with dozens of different projects, you can save up to 100 custom media handling settings. Quickly select the configuration that applies to your current project for the right alignment, fold position and other settings for the best quality for each type of media and a much more efficient workflow.
4. Versatile Finishing Options
Since the Revoria E1 printers have so many finishing options, you can greatly streamline your workflow from print to post-press. Eliminate manual labor requirements by leaving finishing tasks to this production print press instead of secondary equipment or your employees, who can focus on other things. Inline finishing can improve efficiency and ensure more accurate work. From cover inserts to saddle-stapled booklets, the Revoria E1 Series has no shortage of finishing options.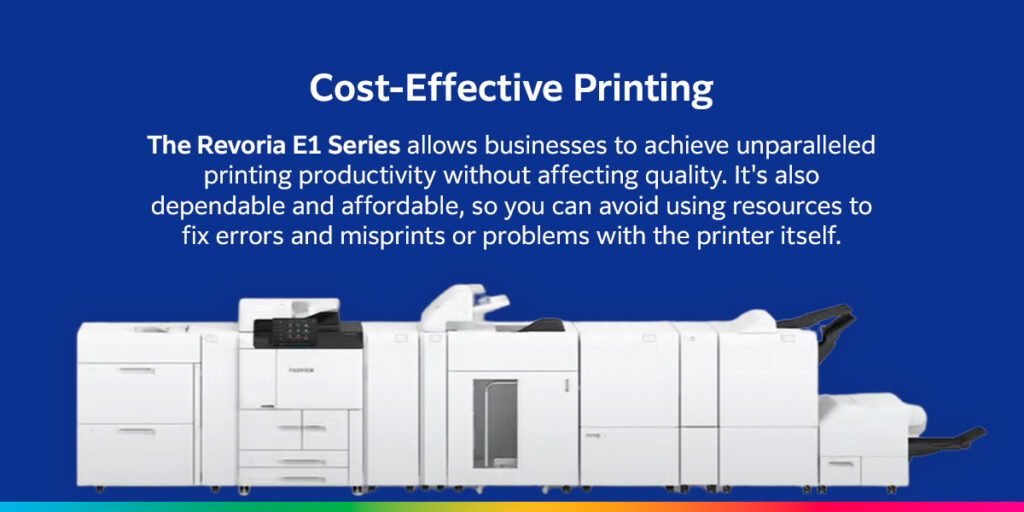 5. Cost-Effective Printing
A printing press has financial effects that go long past the initial purchase. Speed and uptime can determine productivity, while the printer's capabilities will determine which jobs you can do entirely. If you can't print something or your quality is too low, you might need to pass up on lucrative opportunities or downgrade the original project's scope. With this latest series, you don't need to compromise.
The Revoria E1 Series allows businesses to achieve unparalleled printing productivity without affecting quality. It's also dependable and affordable, so you can avoid using resources to fix errors and misprints or problems with the printer itself. Take on more jobs to increase your bottom line or explore more avenues, all while working flexibly and avoiding frustration.
6. Advanced Software Capabilities
Without the right software, your production print press experience could be far more challenging. From error-free operation to a user-friendly interface, the right printer should simplify the process and enable advanced features relevant to your projects or workflow. The Revoria lineup has just that, with the software and service infrastructure needed for high-speed and high-quality production. It even includes image data processing to maximize the print engine's performance, support variable data printing and integrate JDF workflows.
Fujifilm's unique intermediate data format can also streamline raster imaging processor (RIP) tasks. This new system automatically identifies objects like text and images and processes them in the correct format, allowing the printer to reduce processing time without degrading the quality of the image. Other convenient features built into the Revoria E1 lineup's software include support for Adobe® PDF Print Engine, variable data printing standards and data protection mechanisms.
Mass printing and sustainability don't often go together, but Fujifilm is dedicated to helping businesses meet net-zero goals without saying goodbye to the many advantages of print media. Print is a crucial part of marketing efforts and day-to-day operations, and our equipment can support using fewer raw materials, more sustainable consumables and less waste and water. The right equipment is also essential for using new technologies, like more sustainable materials and creating 100% recyclable printed products.
The Revoria E1 Series is part of this ongoing commitment to sustainability. We've implemented advanced proprietary technologies in this lineup that help reduce energy consumption and minimize waste, so you can reduce your environmental impact and meet your sustainability goals.
Do It All With the Revoria E1 Series From Fujifilm
With the Revoria E1 Series, you get an advanced and versatile range of monochrome printers with benefits that range from speed and finishing to affordability and flexibility — all with incredibly high-quality results. These benefits are ideal for businesses looking to increase productivity, expand printing capabilities and meet sustainability goals.
We've packed a wide range of benefits into the Revoria E1 Series, so you can do more and maximize efficiency. It's all backed by the industry-leading expertise of Fujifilm and our knowledgeable team of print professionals. We're happy to chat about your organization's print needs and help you find the right solution to reach your goals. Reach out to us today to talk with an expert.