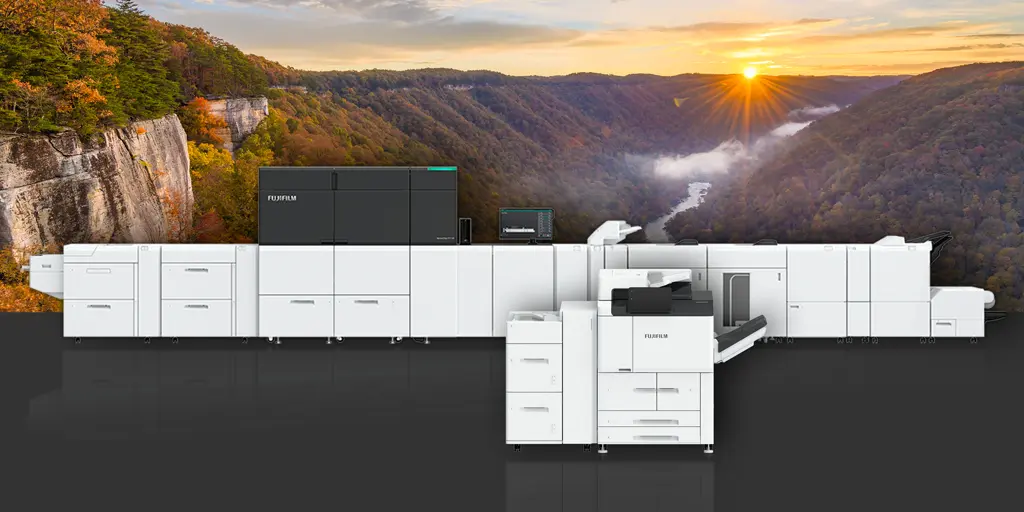 Fujifilm's North American Graphics Communication Division is pleased to announce the N.A. launch of the company's latest print innovation: the Revoria Press™ PC1120, a high-end, toner production color press, and the Revoria Press™ E1 Series, a monochrome, toner production press suitable for both office use and professional on-demand printing.
As the new brand makes its North American debut, the Revoria™ footprint has already been established in Asia and parts of Europe, with professional print customers calling the PC1120 machine specifically a 'money-making investment' that supports a myriad of applications.
The Fujifilm Revoria Press™ PC1120 is a 6-color, single pass device that can print up to 120 ppm: CMYK with a choice of two specialty toners, alongside the option for an undercoat or topcoat.
In one machine, this toner production press enables printers to achieve amazing results and accelerate growth into expanding markets and applications such as luxury brand promotion, packaging and other higher-end categories.
Specifications of the Revoria™ Toner Production Presses
Here are some of the ways Fujifilm's Revoria™ technology – in both 6-color and monochrome – is being creatively used in new applications, enabling GROWTH for printers:
Specialty Colors and Effects: Inline gold, silver and white, plus CMYK overlay, makes a multitude of value-adding embellishments and new metallic colors possible.

The new pink toner allows for a wider color gamut with smoother gradients and more realistic flesh tones to capture photo and photo quality applications.

Sleek varnish effects can also be produced by applying a clear layer, adding a touch of luxury to subtle patterns and backgrounds.


High Opacity White: The ability to print inline high opacity white is essential for higher value applications and specialty materials such as window clings, labels and stickers on transparent media. This also opens a world of possibilities on darker paper and board stocks. In a single pass, Revoria™ can print on clear or dark material, laying down white first, then color on top.


Versatile Media Range: Revoria™ supports a wide range of paper weights from lightweight paper of 52 gsm to heavyweight paper of 400 gsm. It also supports banner sheets of up to 47.25 inches. This widens the scope of new printing applications including finished pieces such as powerful, panoramic posters.
Workflow, Finishing, and Options of the Revoria™ Toner Production Presses
In addition to delivering the VERSATILITY crucial to new growth opportunities, Revoria's™ end-to-end innovation also enables SUPERIOR PRODUCTIVITY with high-speed printing of 120 ppm, even when printing in 6 colors. Additional efficiencies are made possible through:
Improved Workflow: The new presses are driven by Fujifilm's Revoria Flow™, which consolidates control of your production workload into a single platform. Through the Revoria Flow interface, printers can manage queues, submit jobs or reroute work – in addition to quick and easy color correction and overall calibration.


Complete Finishing Flexibility: With Revoria™, you can create a variety of finished projects with full bleed, trimming, crease and folding options – all in one machine! It also includes a cooling device to reduce the potential for wrinkles and aid in post-press processing.


Better Handling: The Inline Static Eliminator module makes it easy to stack and align media, while the Air Suction Feeder improves paper feeding performance, especially for textured and coated media.
Print Quality of the Revoria™ Toner Production Presses
Finally, as with every Fujifilm offering, Revoria™ ensures the EXCEPTIONAL QUALITY of your print projects with additional attributes such as:
AI-based Photo Quality Optimization: AI (Artificial Intelligence) automatically determines the scene for each photographic image on the page and corrects the image appropriately on the Print Server (for example: brightening a dull image and correcting image sharpness). This feature is a game-changer for printers that handle large quantities of photography printing (without a specific photobook printer), and for customers that don't have the ability to retouch images in house.


Enhanced Resolution: With a resolution of 1,200 X 1,200 dpi, the Fujifilm Revoria Press™ PC1120 delivers 2,400 X 2,400 dpi image quality.
Are You Ready to Grow with Fujifilm?
View more information on our newly launched Revoria™ toner production press line: Toner Digital Presses. We look forward to an ongoing collaboration with the North American print market, bringing you the broadest portfolio of products to suit the needs of your business today AND tomorrow!