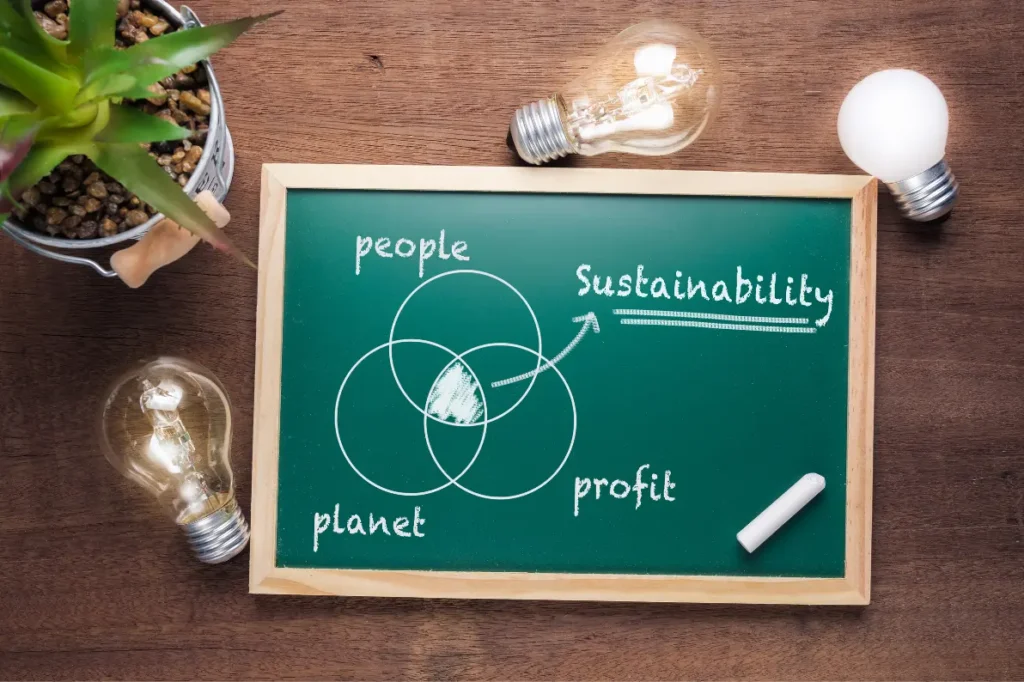 Consumers are becoming increasingly curious about how products are made, their energy consumption and what sort of impact they will have on the environment. This curiosity is driving the economy as more customers seek out and shop with companies that practice sustainable habits and show transparency in their processes. The print industry recognizes the need to invest in sustainable, recycled materials and substrates to meet consumer expectations and avoid print waste.
With more consumers prioritizing eco-friendly business practices, print providers have their hands full. They need to promote their company's environmentally sustainable processes while maintaining the performance and quality of their product. From nonbiodegradable billboards or window wrap foils to wasted materials, the wide format print industry has an opportunity to innovate in the future.
Thanks to new technology, the print industry is changing. Greener alternatives are available for print production. Now, it's easier than ever to convey your message with environmentally responsible print formats.
How to Add Sustainability to Wide Format Printing
There are many reasons to make printing strategies and processes more eco-friendly, but knowing where to start can be challenging. To improve your sustainable printing for wide format processes, try implementing these tactics:
Consider production needs: Reflect on your business and production goals to see where merging sustainable practices into your company would make the most sense.

Invest in energy efficient, alternative print technology: If it's financially feasible, one way to improve your environmental impact is to update the print technology used in your business. Even a minor upgrade can make a difference.

Prioritize recycling: Aim to make all your products and equipment long-lasting and recyclable by their end of life.

Print on sustainable materials: Use creativity to find new materials that work for your printing needs.

Review finishing options: You may use sustainable practices and materials — but if your finishing option isn't also eco-friendly, it hurts the rest of the project.

Review timing: Evaluate your workflow and see if there are ways to produce less waste. Faster printers can help you print projects later in the production process, giving you more time to make adjustments without wasting materials to reprint.

Take care of inks: While the inks themselves may be sustainable, how you handle, store and clean them also matters when considering the environment.
Using Sustainable Materials
Printing used to be taxing on the environment, from its use of harsh chemicals to harmful processes. With recent innovations, more printing technologies and practices are becoming green.
The creation of the Greenguard Environmental Institute has also helped the printing industry boost sustainability. The organization strives to protect human health and improve quality of life by reducing exposure to harmful chemicals and pollutants. Products like Fujifilm's Uvijet UV inks are highly-regarded due to these accreditations.
Sustainability in printing is about more than just using recycled paper — it's about designing sustainable products, equipment and processes that help the entire production produce less waste and pollution. When every aspect of printing is focused on protecting the environment, more products and materials stay in use.
Sustainable Print Equipment
Printers are becoming faster, more efficient and more environmentally friendly. New print technology uses ink that is free from volatile solvents to help reduce the printer's environmental impact — including the Acuity Prime Series and the Acuity Ultra Series printers.
Sustainable wide format printers also use energy-efficient curing systems, like UV LED. The Acuity Ultra Hybrid LED is an eco-friendly printing option that saves resources, enhances time efficiency and improves sustainability practices.
Traditional inks are often solvent-based, containing volatile organic compounds (VOCs) that produce harmful chemical emissions when used to transport pigment onto a surface. Despite their toxicity and flammability, inks with VOCs used to be the most simple and affordable option available.
Today, different types of inks are becoming more prevalent and affordable. Many printing companies that are looking to be more environmentally conscious have shifted away from solvent-based inks as a result. UV-curing or water-based inks are designed to be more compatible with the environment, producing fewer emissions. Many newer inks are crafted to break down easily during recycling, and some come in packaging that is also recyclable.
Substrates, or the material that is printed on during a project, once contained high amounts of polyvinyl chloride (PVC). PVC is often found in banner materials, adhesive vinyl and other outdoor substrates. The use, production and disposal of PVC involve toxic methods, so it hasn't been the most environmentally friendly option for printing.
Green solutions are on the rise, with recyclable and biodegradable materials being developed every year. Forms of soft signage, such as tension fabric systems, are becoming more popular, increasing the affordability of eco-friendly options. Large format printing can go beyond the confines of paper. UV-curing inks print on nearly any surface, including glass, metal, wood and textiles.
Polypropylene vinyl is also becoming more popular than PVC, ranking low to moderate in terms of environmental impact. Many sustainable materials now offer the same flexibility and durability that older printing forms provide.
Why the Print Industry Cares About Sustainability
Everyone has a part to play in creating and maintaining a healthy world. Sustainable practices preserve our current environment by recognizing it is an exhaustible resource that deserves to be cared for and respected. Individuals and businesses alike have the responsibility to protect the environment for future generations.
Beyond the environmental benefits of practicing sustainable habits, businesses can reap financial rewards when they choose to be environmentally friendly. Customers are more likely to interact with companies that engage in and promote sustainable practices. All industries are affected by the wants of clients and consumers, even printing.
Large format printing has escaped the public eye for a while when it comes to sustainability. But as more businesses aim to enact environmentally friendly processes, customers and leaders are starting to look further into the printing industry.
See How Fujifilm is Committed to Sustainable Printing
We at Fujifilm are committed to creating a greener future for print. When you use our products, you can trust you're getting the best quality while still doing your part to create a sustainable world. To learn more about the positive changes happening in wide format printing, request a demo to see one of our wide format printers in action.