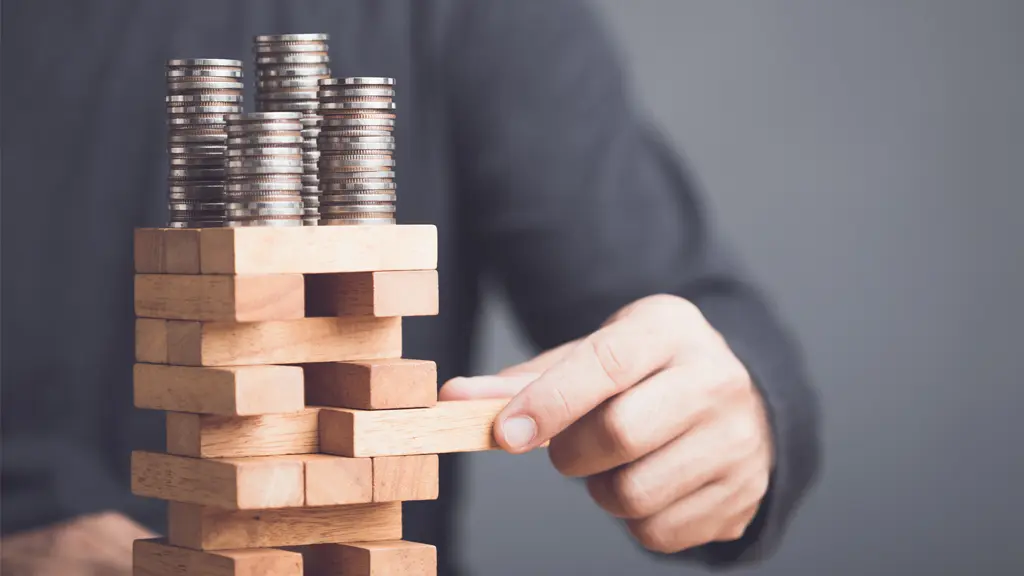 Fujifilm recently hosted VIP customers from across the U.S. at its 23rd annual Print Summit in the company's Hanover Park, Il headquarters. This two-day event included panel discussions, presentations and time spent in the Innovation Hub, where visitors got to experience Fujifilm's latest and greatest print technologies firsthand.
Industry expert, Marco Boer, Vice President of IT Strategies was a keynote speaker at the Summit and gave his perspectives on industry trends and print's future in a presentation titled 2023: the year that started the tipping point from conventional to digital printing. Marco has graciously given Fujifilm permission to share this informative talk in a series of posts, which will be published throughout the next four weeks. Please be sure to check out the first post below, The Tipping Point: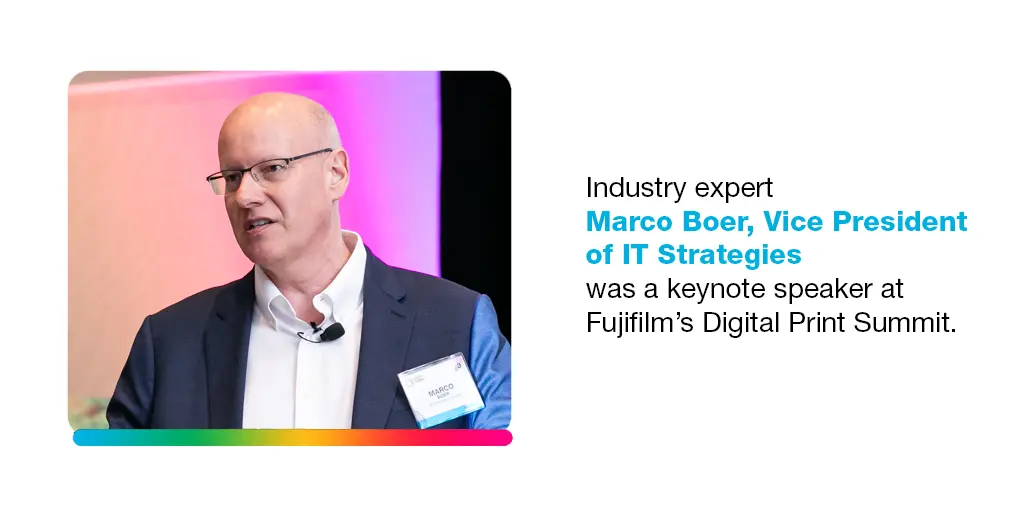 When will digital printing replace conventional printing?
For over 35 years, IT Strategies has been asked, "When will digital printing replace conventional printing?" We always answered that digital printing isn't going to replace offset. It's growing independently of conventional printing, irrespective of the decline we're seeing in certain traditional print segments. That was until COVID happened, which changed the way we live our lives in so many ways, including how print is produced and consumed.
While offset remains so big and so important – and the majority of print volume is still on offset – digital printing is becoming more and more vital. COVID has accelerated that trend. The pandemic dramatically affected the workforce and the global supply chain, and we're still seeing a scarcity of paper and a very tight labor market – alongside rising costs for both.
With flat print budgets, these higher costs are resulting in shrinking print volumes. As such print is becoming more of a luxury item, so what gets printed must be increasingly relevant and timely. In other words, print is getting a lot more expensive for end users, so it has to offer a lot more value!
When will the tipping point from conventional to digital print volume happen?
At the end of the day, "When will the tipping point from conventional to digital print volume happen?" might not be the right question. A better question might be, "When will customers spend more money on procuring digital print than conventional print?" In this series, we'll take a deeper look at the new, high value digital print model that's emerging and why.
Tune in next week for the second post in the series on the effects of rising paper costs. After that, we'll take a deep dive on the U.S. workforce, then we'll get into the different print segments, how they're evolving and where digital printing creates an advantage. Be sure to watch this space!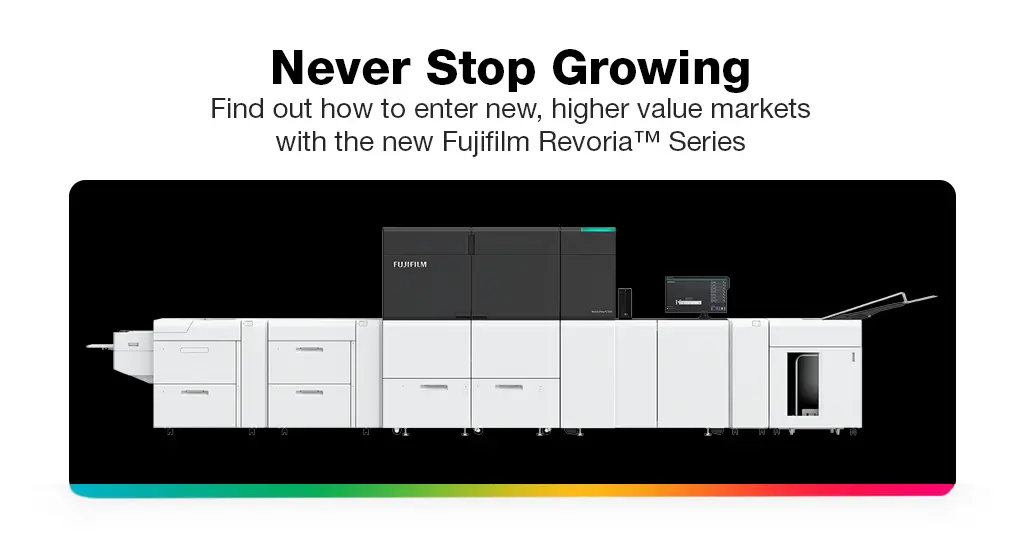 Fujifilm 6-Color Digital Toner Production Press
The Fujifilm Revoria Press™ PC1120 is a 6-color, single pass production toner printer. In one machine, the Revoria press enables printers to achieve amazing results and accelerate growth into expanding markets and applications such as luxury brand promotion, packaging and other higher end categories. Learn more about:
Revoria's ability to print inline high opacity white is essential for higher value applications and specialty materials such as window clings, labels and stickers on transparent media.

How Revoria supports a wide range of paper weights from lightweight paper of 52 gsm to heavyweight paper of 400 gsm and banner sheets of up to 1,200 mm, broadening the scope of new printing applications and finished pieces.

AI-based Photo Quality Optimization, which is a game-changing feature that automatically determines the scene for each photographic image on the page and corrects the image on the Print Server.
Fujifilm Exhibit – Printing United 2023

Fujifilm is exhibiting at PRINTING United Expo 2023 on Oct. 18-20, 2023 in Atlanta, GA. Experience the latest Fujifilm innovations.

Managing Complex Variable Data Printing

Managing complex variable data printing can grow your business. VDP is set to expand with more businesses seeking ways to personalize materials. Learn more.

PRINTING United Expo 2023

Printing United Expo 2023 on Oct. 18-20, 2023 in Atlanta, GA. View event info, maps, and more.