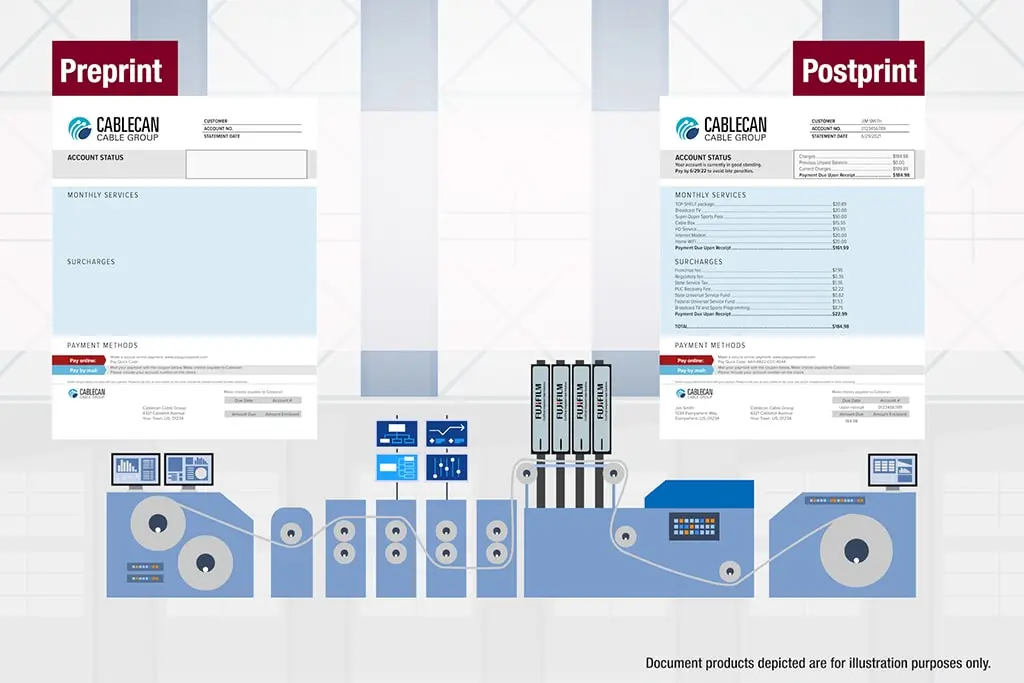 More than ever, businesses are under pressure to tailor products and packages and deliver them to consumers fast. The demand provides a unique opportunity for printing companies to get the most out of late-stage customization packaging, serving various industries. Whether printing customized packages for a manufacturing brand or just-in-time product packages for pharmaceuticals, you can grow your printing business by leveraging digital inkjet systems.
Overview of Late-Stage Customization
The principles of late-stage customization include tailoring product packages for specific markets, reducing costs and wastage. The idea is to affect the supply chain positively and enable manufacturers to print custom information, like manufacturing dates, batch numbers, and batch/version specific artwork just-in-time or without pre-printing packages for stock.
Benefits of Late-Stage Customization for Modern Manufacturers
Late-stage customization is beneficial for various reasons:
Requires less inventory: Manufacturers may sell their products to multiple markets and in various package sizes. Every market needs custom product packages and specific regulatory information. Packaging purchased to inventory in advance of orders is often purchased in excess to ensure future demand can be met. This drives up storage capacity needs and waste. Late-stage customization enables finishing packaging on demand thereby consuming only the materials needed for specific orders.

Faster production turnarounds: Late-stage customization enables leaner production and stock-keeping units (SKUs) processes. Streamlining these operations means a shorter time to market.

Reduces waste: Just-in-time printing eliminates wastage related to material inventories that become irrelevant.

Maximizes cost efficiency: Reducing waste positively impacts manufacturing costs. Late-stage customization also minimizes handling expenses, resulting in efficient operations and savings.

Lowers carbon footprint: Reducing excess material inventories and streamlining logistic operations reduces negative impacts on the environment.
Industries Leveraging Late-Stage Customization Solutions
Late-stage customization solutions are helpful for a range of industries, businesses or manufacturers. They are also effective for items that need specific details included on the packaging just-in-time or as a product is ordered. Examples of entities leveraging late-stage solutions include:
Food and beverage companies customizing labels, graphics and branding per the market

Health care and pharmaceutical businesses adding serialization, expiration dates, region-specific information and protocols

Manufacturers printing barcodes, tags and information directly on shipping cases
Our Innovative FUJIFILM 42K Printbar System for Your Late-Stage Customization Service
The FUJIFILM 42K Printbar System supports package printing and direct-to-product printing, making it an ideal solution for late-stage customization. We understand you are looking for accurate printing systems that meet your clients' just-in-time requirements and are cost-effective for your organization. The 42K provides:
High profitability: The add-on printing solution complements your existing equipment, enabling digitized, quality inkjet printing. It helps you reduce process steps, which saves time and minimizes waste. You can do just-in-time printing with the speed and reliability needed for high-production volume manufacturing and converting operations.

Agile printing: The 42K Printbar System uses the patented Fujifilm REDIJET® ink recirculation system. This innovative technology enables continuous closed-loop circulation that doesn't disrupt your print jobs. The result is faster uptime and simplified printhead cleaning protocols.

Increased productivity: You need productive solutions when you receive high-volume, high-speed, single-pass orders. The FUJIFILM 42K Printbar System completes prints exceeding 1,000 feet per minute. Plus, the system leverages innovative technology to enable unique page printing quickly.

Reliable results: The fluid management system, innovative designs, and printhead deliver consistent quality, even over long print runs. The FUJIFILM Samba printhead used in the 42K System is rated for trillions of actuations, has 32 rows of nozzles and offers 1,200 DPI, giving the system enough redundancy to withstand nozzle losses over time. Ultimately, even if you lose nozzles during jobs, your detailed printing — such as barcodes and text — won't instantly be affected.

Quality jobs: The fluid management, system alignment and capability enable fine details like 2-point text, barcodes and grayscale images to be printed consistently and in outstanding quality.

Seamless integration: The FUJIFILM 42K Printbar System can integrate well with your existing analog presses and other production operations. This integration enables maximum productivity and return on investment without making your legacy systems redundant. The system's design means you won't need to reposition or stitch the printhead. The printbar will support your existing systems and interfaces, letting you seamlessly expand your capabilities and service offerings.
Contact us for a System to Maximize Your Efficiency and Service Offerings
The Graphic Communication Division of FUJIFILM North America Corporation has partnered with various printing companies to facilitate high-quality, innovative and efficient print solutions to help them grow and achieve a competitive advantage. Our team is available to advise you and find the perfect solution to expand your late-stage customization capabilities.
Fujifilm Exhibit – Printing United 2023

Fujifilm is exhibiting at PRINTING United Expo 2023 on Oct. 18-20, 2023 in Atlanta, GA. Experience the latest Fujifilm innovations.

Managing Complex Variable Data Printing

Managing complex variable data printing can grow your business. VDP is set to expand with more businesses seeking ways to personalize materials. Learn more.

PRINTING United Expo 2023

Printing United Expo 2023 on Oct. 18-20, 2023 in Atlanta, GA. View event info, maps, and more.