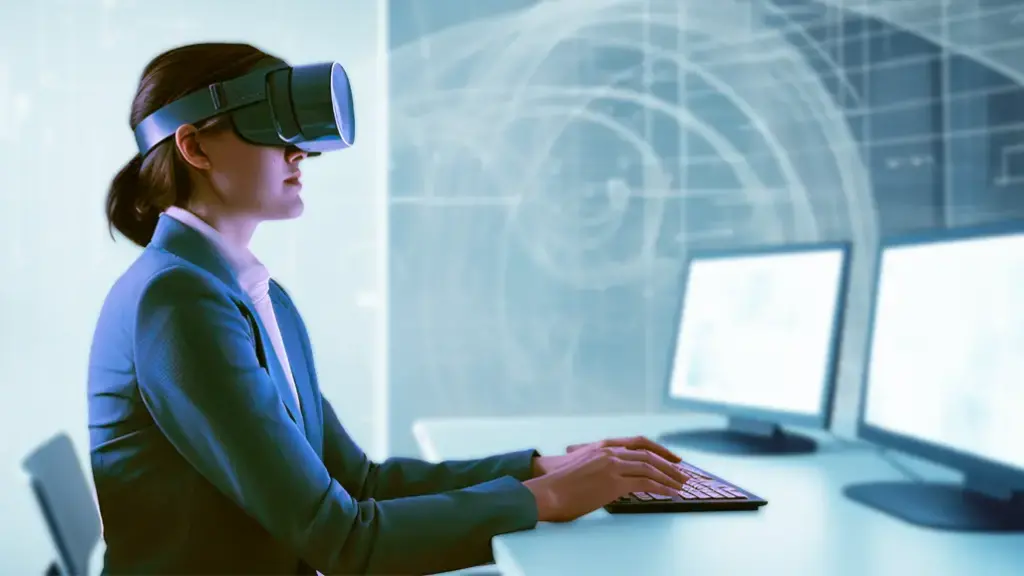 In today's marketplace, qualified workers are in high demand. Post-COVID, there is an estimated labor gap of 5-10% across the entire economy. Like most manufacturing categories, the print industry has historically been labor intensive, so printers have been hit hard with these labor shortages.
What's behind this trend? Labor shortages are partly due to the pandemic, and its effect on the way we work. General population numbers also factor in. The American birth rate fell for the sixth consecutive year in 2020, marking a 4% decline from the year prior – and representing the lowest number of babies born since 1979. Some population decline dates back to the 2008 recession, which will result in approximately 500,000 fewer workers entering the workforce by 2026. This is compounded by the fact that Baby Boomers (those 76 million Americans born between 1946 and 1964) are also retiring in droves, at the rate of 10,000 per day.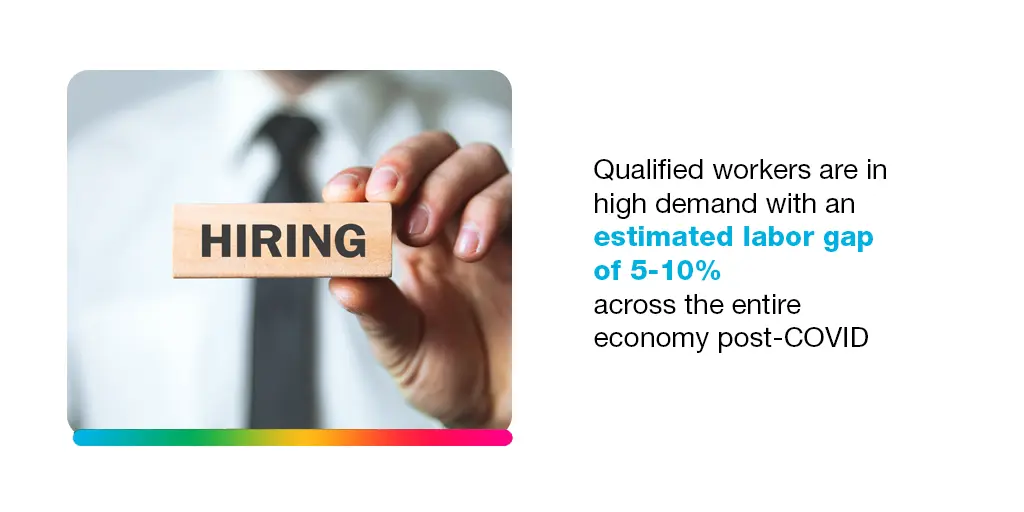 Specific to the traditional print model: the average age of an offset press operator is estimated to be in the mid- to late-50s. As these skilled tradespeople leave the workforce, it will soon be very difficult to find anyone who can run an offset press.
This shortage of workers is causing a myriad of staffing issues for printers, on top of the fact that workers today are getting paid a lot more money. To stay competitive with other industrial employers, printers have had to keep pace by raising their wages an estimated 20-30% in recent years.
With fewer workers being paid more money – not to mention the added costs of overtime and downtime when staffing is low – the question for the average printer becomes: How can we work smarter?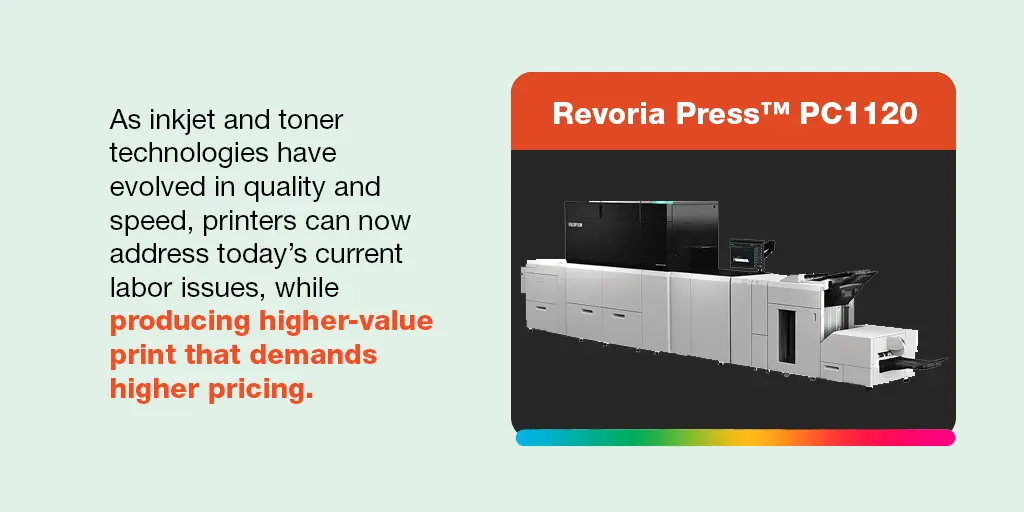 The good news is that with digital printing, operations are indeed becoming smarter and more connected. By its very nature, the digital workflow helps printers simplify operations and improve the performance of workers who lack experience. Printers can onboard new employees faster, and train them on a broader diversity of tasks, thereby increasing flexibility across their operations.
Nobody could have predicted three years ago how much the world was going to change, but it certainly has. The way we buy and sell print has changed significantly, as has the way we hire and manage staff.  With market trends accelerating the technology transition, we must look to new business models as we prepare for the future. It's true that print volumes are shrinking, but the value of print is increasing. So, while print is not the high-volume industry it used to be, it has become a far more interesting space. Be sure to check out our next and final post in the series: The Future of Print.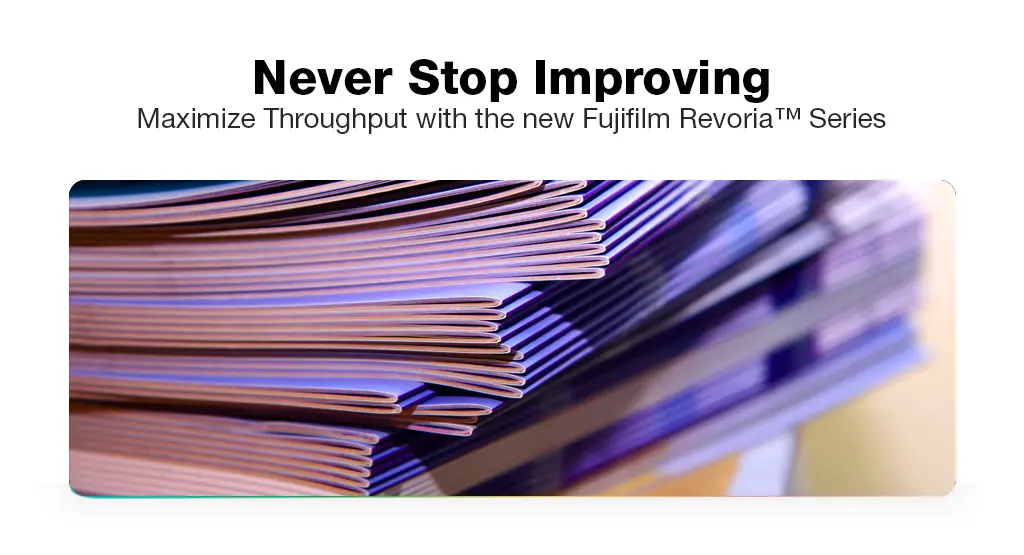 Fujifilm 6-Color Digital Toner Production Press
Revoria's end-to-end innovation enables SUPERIOR PRODUCTIVITY in your shop with high-speed printing of 120 ppm, PLUS:
The new presses driven by Fujifilm's Revoria Flow™ PC11 print server improve your workflow by consolidating control of your production workload into a single platform.

AI-based Photo Quality Optimization is a game-changing feature that automatically determines the scene for each photographic image on the page and corrects the image on the Print Server.

With Revoria, you get complete finishing flexibility to create a variety of finished projects with full bleed, trimming, crease and folding options – all in one machine!

Better handling is made possible with the Inline Static Eliminator module, making it easy to stack and align media, while the Air Suction Feeder improves paper feeding performance, especially for textured and coated media.
Fujifilm Exhibit – Printing United 2023

Fujifilm is exhibiting at PRINTING United Expo 2023 on Oct. 18-20, 2023 in Atlanta, GA. Experience the latest Fujifilm innovations.

Managing Complex Variable Data Printing

Managing complex variable data printing can grow your business. VDP is set to expand with more businesses seeking ways to personalize materials. Learn more.

PRINTING United Expo 2023

Printing United Expo 2023 on Oct. 18-20, 2023 in Atlanta, GA. View event info, maps, and more.