Fujifilm's latest high-performance digital printer is the ideal blend of quality, flexibility and efficiency. We're thrilled to announce our newest innovation, the Revoria Press PC1120. This six-color, 10 channel print engine offers superior productivity, several advanced features and multiple finishing options to suit even the most unique printing projects.
It's an all-around high-performing printer that can help you meet your goals, whether they involve print quality or efficiency. Impress your clients and expand your horizons with the Revoria Press PC1120.
Meet the Revoria Press PC1120
The Revoria Press PC1120 is the first press in our Revoria range of equipment, with an exceptional print speed of 120 pages per minute (ppm) and a high-output resolution of 2400-by-2400 dots per inch (dpi). You'll get a six-color print engine that can accommodate a range of specialty toners, such as Clear, Gold and White, for unique and engaging products.
From feeding to static electricity discharging, the entire system adapts to the unique behaviors of specialty media. You can print unusual and eye-catching products easily, with the excellent quality you expect from Fujifilm. Of course, standard prints benefit from high-quality resources, too, such as inline finishing and text enhancement tools.
In addition to extensive capabilities, this high-speed printing press offers efficiency-boosting technologies such as fast calibration systems, automatic quality inspections and diverse inline finishing options.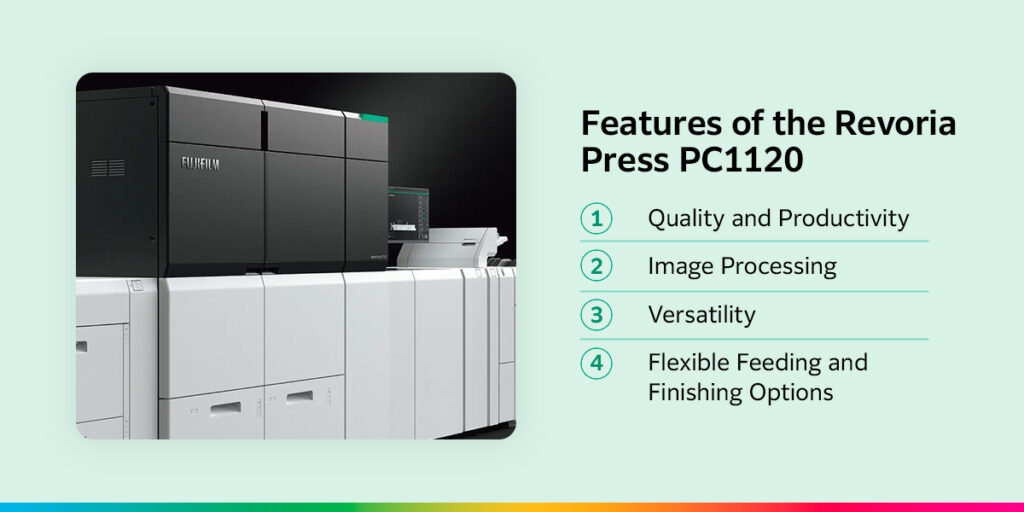 Features of the Revoria Press PC1120
We've infused unique and capable features within the Revoria Press PC1120, so you can tackle any print job that comes your way easily and efficiently.
1. Quality and Productivity
The Revoria Press PC1120 delivers exceptionally high quality, with a resolution of 2400-by-2400 dpi and a one-pass six-color print engine. Load up to two specialty toners for metallic effects and fluorescent colors. Thanks to the extremely small particles in the Super EA-Eco toner, you'll get photos with smooth gradations and fine lines and text with sharpness and uniformity. This digital printing press makes it easy to get stunning prints without spending hours adjusting settings.
Some of the powerful features that boost print quality include:
Inline sensors and adjustments: All your high-quality images get printed right where they should with the help of an inline sensor and its automatic adjustment functionality. The sensor allows you to calibrate the system quickly and minimize maintenance requirements.

Professional color management system: This lineup supports CMYK standards like Fogra, SWOP and GRACoL for professional color handling.

AI-powered photo quality optimization: Our AI can automatically determine scenes for each photo on a page and make corrections. It can adjust low-quality images to ensure better prints without any extra work from you.
With better images and more productivity, you can stretch the limits of creativity and take on more eye-catching jobs.
The image processing in the Revoria Press PC1120 includes:
A raster imaging processor (RIP) that offers 1200-by-1200 dpi and 10-bit processing — with 1,024 gradation levels — on the print server

A smooth, high-resolution screen image of 2400-by-2400 dpi with Fufjifilm's unique Micro Accurate Control Screen (MACS) technology

Edge Enhancement and Adjust Invert Text/Line Weight functions to improve image quality

An FM screen option to suppress moire and reduce granular roughness

A fluorescent Pink toner that can improve the smoothness and reproduction of skin tones and textures
Whether printing professional-grade photos or simple documents, you can expect top-notch image quality.
The Revoria Press PC1120 is built for versatility. It supports paper weights from 52 grams per square meter (gsm) to 400 gsm and banner sheets up to 1,200 millimeters (mm). Sizes range from A6 to 330-by-450 mm, and you can print full-bleed on the 320-by-450 mm SRA3 size.
No matter which media you use, the system is built for smooth, seamless paper transit. If you're printing on film and metallic media, the inline static eliminator module prevents static electricity from causing problems. Plus, the Revoria Press PC1120's inline finishing options allow you to accomplish a range of finishes within one piece of equipment. You can trim, crease, fold, staple and hole punch in many different configurations without a secondary system.
4. Flexible Feeding and Finishing Options
This production printing press offers flexible options for feeding and finishing, so you can easily accommodate different projects. High-capacity stackers and multi-sheet inserters support high-volume production with few manual requirements, while air suction feeders pull each sheet up individually for better feeding performance in low-quality, textured and coated media.
Some of the Revoria Press PC1120's output options include:
Real-time paper curl correction for uninterrupted operation

Cover and sheet insertion
You can get further flexibility through easy inline connections with third-party finishers. This press can handle complicated configurations for streamlined yet stunning products.
The Benefits of the Revoria Press PC1120
Any business looking for high-performance printing can benefit from the Revoria Press PC1120. From print quality and productivity to flexibility and cost savings, this press is an all-in-one solution for many mass printers. Benefits include:
This digital printing press offers 120 ppm, so you can finish projects ahead of schedule and improve your productivity. You can squeeze more jobs into the day and meet tight deadlines. Along with high speeds, the Revoria Press PC1120 minimizes maintenance and feeding requirements. For example, high-capacity feeders allow you to go longer between refills, and the simple adjustment process requires just a simple calibration scan, so the technician can get back to more important tasks.
This press can also help you avoid time-consuming errors that might require fixing a paper jam or reprinting misaligned pages. Instead, the PC1120 uses various technologies to ensure smooth performance and minimize interruptions.
2. Versatile Feeding and Finishing Options
The versatility of the Revoria Press PC1120 allows for countless configurations, all inline with the printer system. You can take advantage of all of these features and more from one piece of equipment:
Interface decurler modules

Crease and two-sided trimmers
Streamline your workflow from print to post-press to save time and boost efficiency.
With the Revoria Press PC1120's high-output resolution, professional color management system and other sophisticated features, you can expect high-quality products in every print run. Professional photos benefit from accurate color reproduction and AI image processing, while text documents get sharp, well-aligned text with well-executed finishes.
The Revoria Press PC1120 can help you achieve:
Fluorescent colors, accurate skin tones and an expanded color gamut with Pink toner

Visually intriguing designs with white underlay printing and high-opacity White toner

Premium print effects with brilliant metallic toners

Smooth gradations in photos and crisp lines in text for improved readability

Easy edge and line weight enhancements that can happen automatically

Screen selections that you can choose based on individual objects' needs
The rich color options from the print engine allow you to expand your print operations and impress more clients through dependable quality. Print quality can vary from project to project, but the Revoria Press PC1120 has mechanisms in place to address common problems and offer exceptional results in everything from comic books and professional photos to billing statements and business cards. Wherever your work takes you, you can rest easy knowing that this digital printer offers great performance.
4. Creative Possibilities
Many print projects are rooted in creativity, but the limitations of printers can make it more challenging to bring a piece to life. With the Revoria Press PC1120, you can expand your horizons and create a wide range of effects. In today's market, unique prints can be the difference between an effective marketing campaign and one that falls flat. The right equipment can help you stand out from the crowd.
Some innovative prints you can create with the Revoria Press PC1120 include:
Metallic effects: Metallic toner is excellent for adding a little flair to traditional prints and mitigating forgery. For example, a metallic-printed concert ticket is harder to duplicate and offers a premium feel.

High-opacity White toner prints: Print on colored media with high-opacity White toner for ethereal and unique effects.

White underlay: Create transparency films with white underlay printing to add an eye-catching design that interacts with its background.

Clear overlay: A layer of Clear toner on top of specific elements can help them pop off the page. Use it on text and illustrations for some excitement, or add it to backgrounds for a subtle texture.

Pink toner: Enhance skin tones for photographs, print eye catching pink colors as well as color matching capabilities to increase your application ability such as printing brand specific colors.
With Clear, Gold, Silver, White, Pink and Custom Red specialty toners, the possibilities are endless for adding personalized and innovative print products to your catalog. Outside of colors, the vast finishing options can also help you explore new products and differentiate yourself in the market.
Thanks to the Revoria Press PC1120's ability to print on diverse paper weights and sizes, you can take on more jobs and expand your capabilities. Tackling unique jobs is easier than ever, and you can confidently say yes to lucrative projects and offer more diverse print products to your customers.
You'll get flexibility through:
Media handling: With technologies like the air suction feeder and the static electricity eliminator, this production printing press allows you to work confidently and quickly with more media types.

Finishing options: Offer your customers more products to choose from to improve the value of your partnership.

Print quality: Technology like print inspections and AI photo optimization can help you excel at nearly any kind of project, from glossy posters to personalized bill statements.
With a larger repertoire of products available, you can configure even the most complex projects for easy printing in this digital press.
The Revoria Press PC1120 has plenty of advanced features like AI quality optimization and automatic adjustments, allowing you to make fast, easy modifications. Components such as the inline sensor and color management system can also help eliminate errors, so you can spend less time fixing problems. Instead, you get to work on more important tasks that further your business goals.
An efficient printer is crucial for modern businesses. From high-volume single runs to continuous mass printing projects, the Revoria Press PC1120 streamlines operations and minimizes hands-on requirements. With a single-pass design, you can finish complicated prints in one run and avoid swapping colors between stations.
8. Cost-Effective Printing
Your printer can determine many aspects of profitability, such as what types of jobs you can do and how much time you'll spend on each one. Low-quality prints or other limitations can restrict you to certain projects or cause headaches for your clients. The right solution shouldn't require any compromise.
The Revoria Press PC1120 offers more bang for your buck with a wide range of capabilities to help you improve profitability and position your business for new clients. You can take on more jobs, offer more products and provide competitive pricing while maintaining high output and superb quality.
This digital printer brings extensive value by enabling business expansions and higher-quality production. With the Revoria Press PC1120, you can improve your position as a dependable printer and increase the value of your services. After all, many clients will happily pay more if you can print innovative graphics quickly or accommodate high-volume jobs. Flexibility and quality can make you a more attractive option and boost business opportunities.
High-quality printing is also a key part of building customer satisfaction. Many designers will quickly spot even the smallest errors, so a reliable solution and quality prints can set you up as a stand-out service provider that keeps clients coming back. The Revoria Press PC1120 can help you meet quality goals with helpful handling tools and quality assessments, such as the print inspection feature.
Overall, you can expect a well-rounded solution that accommodates demands for speed, quality, versatility and other aspects of performance.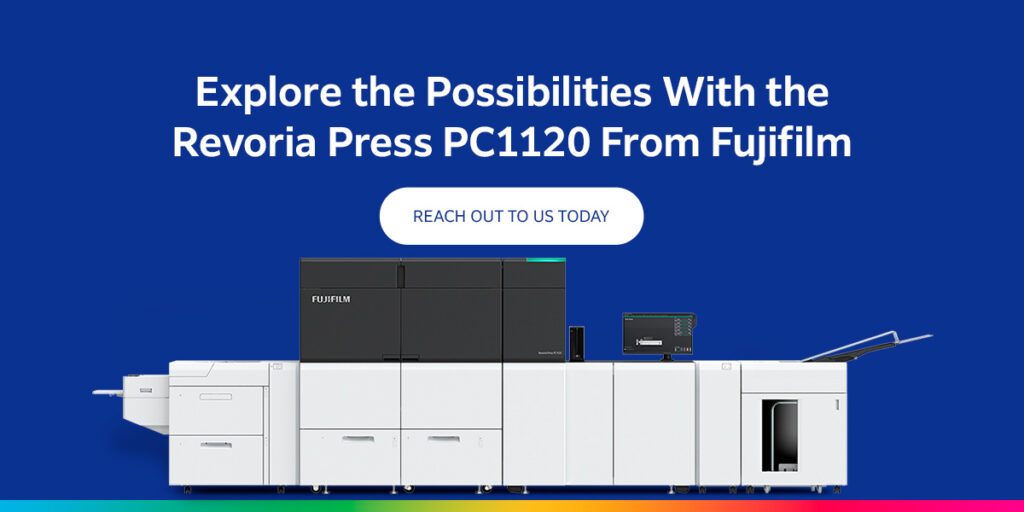 Explore the Possibilities With the Revoria Press PC1120 From Fujifilm
For unparalleled quality and efficiency, look no further than the Revoria Press PC1120. We've incorporated innovative technologies and capable proprietary systems into this digital printing press for a powerful and versatile solution. Fujifilm's industry-leading expertise brings you a printer that can help you wow your clients and reach new heights in your business.
The Revoria Press PC1120 is an excellent choice for any business looking to meet efficiency or quality goals. If you're not sure, our knowledgeable team can work with you to find the right printing press for your organization and budget. Reach out today to request a demo and get started!