Setting New Standards for Wide Format Through Performance, Versatility, Value and Ease-of-Use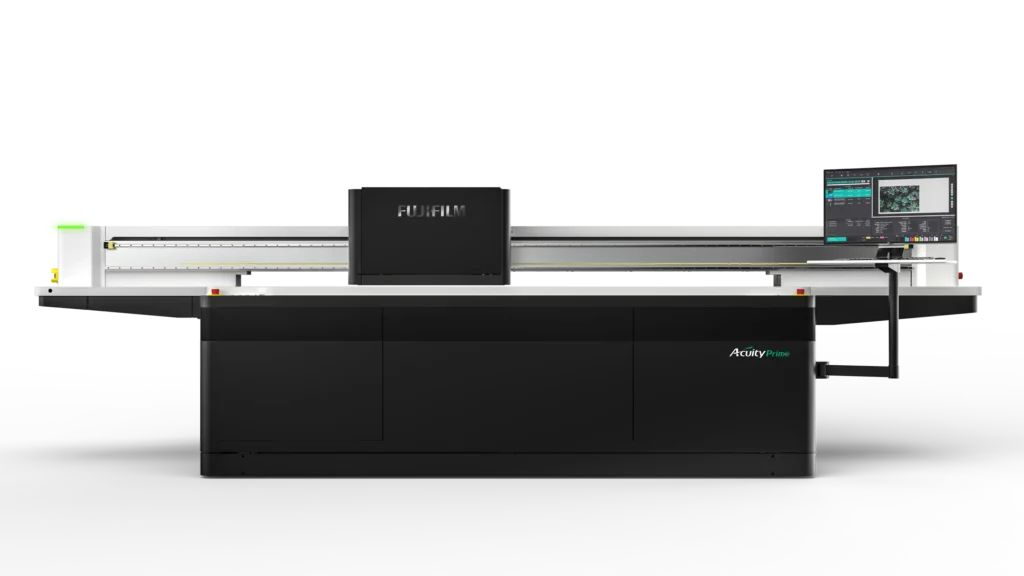 FUJIFILM North American Corporation, Graphic Systems Division today announces the newly designed Acuity Prime flatbed printer, which prints at exceptionally high quality to a range of rigid and flexible media.
Built with efficiency in mind, the Acuity Prime features a high quality LED curing system which is air-cooled and only requires a single-phase 25-amp supply, helping to maintain efficiency.
A new ink system – FUJIFILM Uvijet HM – has been formulated to provide excellent adhesion to a broad range of substrates while also producing a wide color gamut. The new ink range is optimized to consistently produce high quality, vibrant images.
A new jetting primer improves adhesion further for particularly challenging substrates, removing the need for offline pre-treatment of substrates before printing, saving time and money. The Acuity Prime also features a printable area of 4 feet by 8 feet and can accommodate media up to a thickness of 2 inches.
Available in CMYK formats with white, and additional clear and jetting primer, the Acuity Prime with FUJIFILM Uvijet HM ink offers the ultimate versatility and value by providing the flexibility for print businesses to customize it to their own needs.
Key convenience features include the media registration pins, which can be operated with the touch of a button, allowing for pinpoint media placement precision and exceptionally accurate print registration from job-to-job. The five dedicated vacuum zones, based on common media sizes, vastly reduce the amount of masking required. This enables quick media changeover, decreasing job set-up times. The Acuity Prime splash-free ink pouch system is designed for easy pouch changeover and incorporates an LED light system to quickly and effectively alert the operator to low ink levels.
In addition to the all-new technical features, the Acuity Prime also includes practical benefits, such as an integrated shelf for operator tools, which allows them to be kept close at hand but safely away from moving parts of the printer. There is also a close access to a cabinet built into the space underneath the front of the Prime for convenient storage of personal protective equipment (PPE), and personal items, helping to keep the area around the printer clear. The software and user interface have also been carefully updated to provide a variety of functional solutions for the operator in the most straightforward way possible.
"The Acuity Prime represents a 'next step' for Fujifilm. It's built on our knowledge and expertise, but at the same time it's something fundamentally new – 'the new blueprint for wide format'", said Ramona Serafino, associate product marketing manager, FUJIFILM North America Corporation, Graphic Systems Division. "What sets it apart from previous products is the extent of the creative freedom we have had over every aspect of its design and development. Having this level of control has given us the opportunity to ensure that the end product offers unbeatable standards of performance; exceptional value, versatility and ease-of-use, and the best ROI available on the market."